We spend a lot of time in peoples' yards and gardens, and there is one plant in particular that we avoid at all costs: Poison Ivy.
Now, this can be a bit of a "the boy who cried wolf" situation, as the phrase "better safe than sorry" comes to mind when trying to determine if the plant we are staring at suspiciously IS actually Poison Ivy. Childhood warnings often fade over time, and you find yourself pondering "did they say five leaves or three?" when pensively considering the greenery in front of you. As a company, we also do note want to risk the health and safety of our employees by allowing them to find out the hard way, so we endorse them being cautious. However, occasionally, this means that we avoid plants that are completely harmless.
So! With all that, let's have a lesson on what Poison Ivy DOES look like!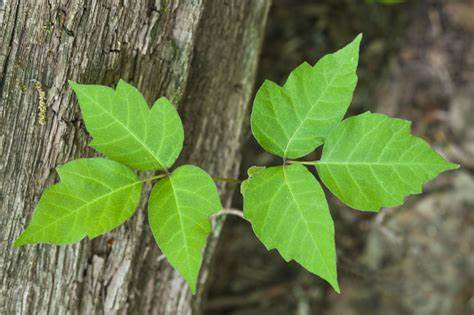 Let's note the THREE leaves, with the central one being on a longer, centered stem. Also note that although the leaves have peaks along the edges, they are fat peaks and infrequent; also fairly smooth edging. Now, beware, it is NOT always green. "They are reddish when they appear in the spring, turn green during the summer, and become various shades of yellow, orange, or red in the fall."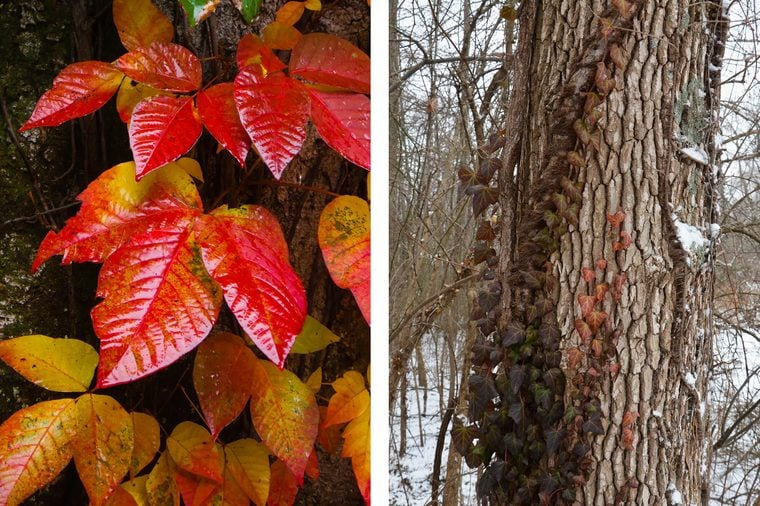 As Reader's Digest states, "In the springtime, the plants will blossom with very small white flowers and bright green leaves. Over the course of the summer months, the plant will produce greenish berries, too. Summer poison ivy leaves are still green, but there might be a few leaves that appear redder. In the fall, the leaflets will turn full-on red with some orange and yellow, too." (The Healthy - Reader's Digest).
As it's name 'ivy' delineates, it is a woody, climbing vine. This means it is UP other plants (trees, stronger stemmed plants, and even up the sides of buildings and fences) as well as across the ground.
Please note that, as the Explorer Chick says, "An oil in the plant, urushiol, usually causes an allergic reaction and rash when people contact the sap. And the oil isn't just in the leaves or stem — the entire plant is poisonous." (How to Identify Poison Ivy (And How to Treat an Allergic Reaction), so you do not want to touch ANY part of the plant.
If you are brave enough to gown, glove, and boot up to attempt to remove this irritating invaders, please note as the Government of Canada websites warns "If poison ivy is burned and the smoke is inhaled, the rash will appear on the lining of the lungs, causing extreme pain and possibly fatal breathing problems. If poison ivy is eaten, the digestive tract, airway, kidneys, or other organs can be damaged." (Poison ivy - Canada.ca). As such, the only way to dispose of it is to bag it and put it in the garbage - possibly adding a warning label to help protect our sanitation workers.
The joys of Mother Nature are that this is not the only risky plant we can encounter. Bob Vila Has a great article on ALL the dangers available in your garden here: Poisonous Weeds: 10 Ways Your Backyard Can Hurt You. Be sure to brush up on what you should avoid.
Hope this article provides a good reference for "is that poison ivy?"!