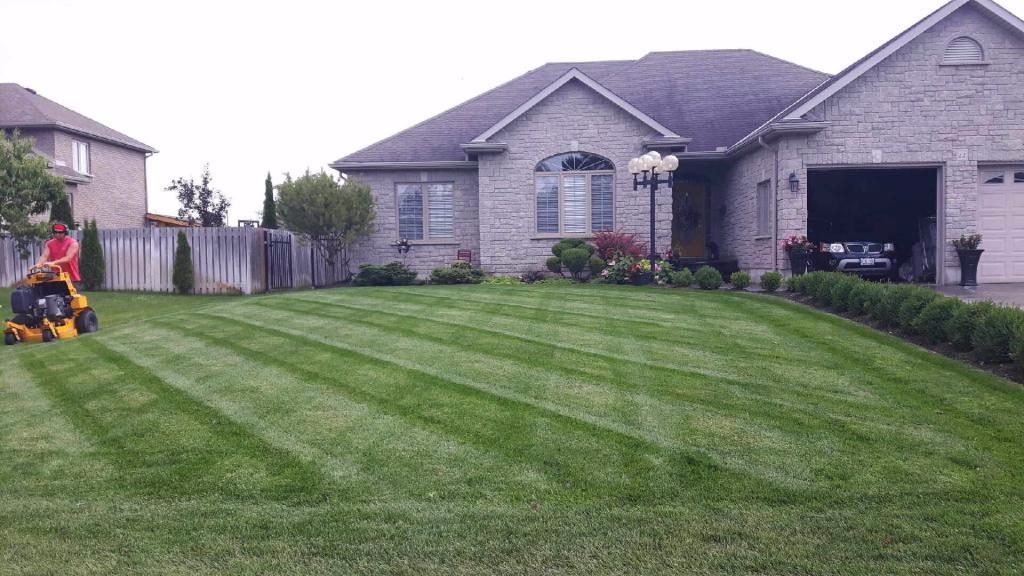 JLC is looking good in Cambridge, ON. Working towards being the best lawn care company in the Cambridge area, here is a photo of one of our recent works.  Looks good doesn't it? This cut is what we at Jody's Lawn Care (JLC) call the executive cut.  Mowing your lawn in the same direction week after week affects how it grows.  It's best to cut in one direction one week, and then the other the next.  And on special occasions, the executive cut looks incredible!  JLC has commercial lawn mowers for the most prestigious and quality of cuts.  Proper mowing increases the density of the lawn which helps to decrease and prevent weed growth.  If you mow in the same direction each time, the grass begins to grow in that pattern, preventing it from growing upwards and straight. After mowing, it's best to blow the grass clippings and scatter them evenly across the lawn.  This allows nutrients and nitrogen back into to the lawn, it's a form of grass cycling or recycling.  
Being professionals in the lawn care business, we know the importance of mowing a lawn properly.  Each lawn is unique and different from the previous- our care and attention to detail makes us superior.  And although new to the area, quickly JLC will be the best in the region due to our quality and art of lawn mowing.  If we cut your grass on a weekly basis, you'll be the envy of the neighbourhood.  
Here are a few more tips if you must do it yourself ( although wouldn't you prefer to have the weekend off?): 
-cut a wide boarder of the perimeter before you begin
-don't cut too short- length is better for your lawn.  It prevents weeds and brown patches
-edge and trim to create a clean edge along the curbs and driveways
Make sure you take some time to enjoy your yard.  You work hard, you deserve it!